12" MLP "Nganga"
Special edition of 500 copies
One-sided 12" MLP
Lenticular picture with a deep effect on the B-side
Jacket with circular die-cut, printed on both sides
Mangy lyrics sheet
Shipping: August 7th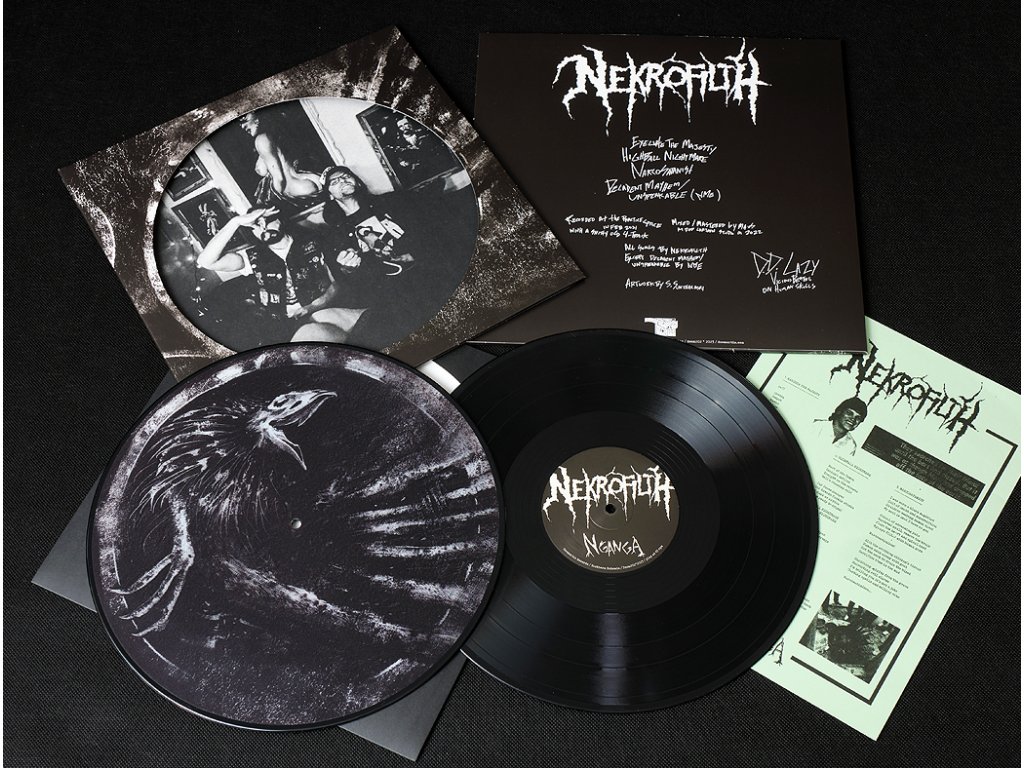 The last time both DOOMENTIA and NEKROFILTH worked together, it was back in 2017 for the epic split with juggernauts CIANIDE. A year after that, the seminal Worm Ritual album was released. Then after a year of sporadic festival dates and the like, and the emergence of the pandemic, the band moved it´s home base to Portland in search of a fresh lineup / sound.
In early 2021, still in the depths of Covid, a death pact was formed with none other than DD LAZY, the sick freak behind Headsplit Records, Hemorrhoid, and many other atrocities! From this sickening union a hellish EP was formed. Recorded on a shitty old four track at the practice space, it has a truly weird and extreme sound, one that the underground maniacs have been craving! Even if you thought that earlier recordings like Worm Ritual were, indeed, filthy-as-fuck, you´ll still never know what´s going to hit you with Nganga. These four new exclusive songs, and first recordings in over three years, are just nasty man. Nasty. Zack Ripper´s guitar tone here is made of the same weird slimy mixture the toxic avenger had fallen into, backed by a nuclear and throbbing bass and the most vitriolic vocals you´ve heard this year. Punk-as-fuck, thrashing to the extreme and always on the verge of collapsing, to put it simple, NEKROFILTH has never sounded this pissed off!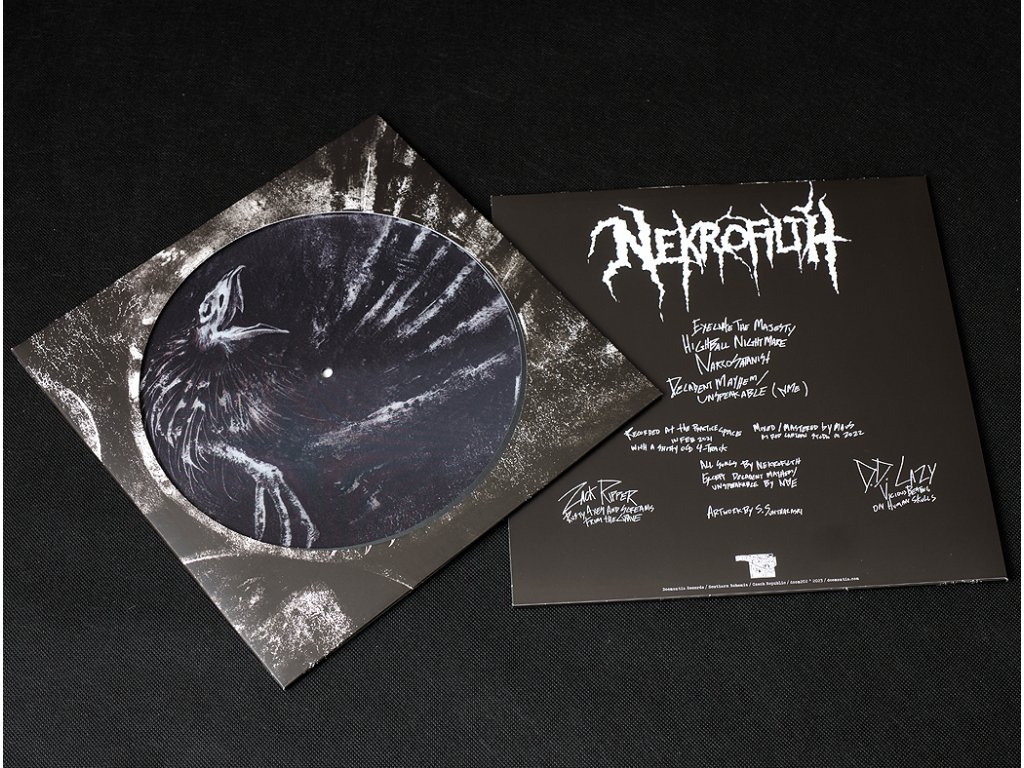 On top of all of that, once again you can count on DOOMENTIA RECORDS for some seriously cool packaging. Strictly limited to 500 copies, this one-sided deluxe 12" EP includes a lyrics sheet, circular die-cut jacket, which exposes, wait for it, a deep lenticular effect on the B-side to die for. You definitely don´t have anything in your collection like this! NEKROFILTH and DOOMENTIA RECORDS are fucking back!
SINGLE "NARCO SATANIST" ON BANDCAMP!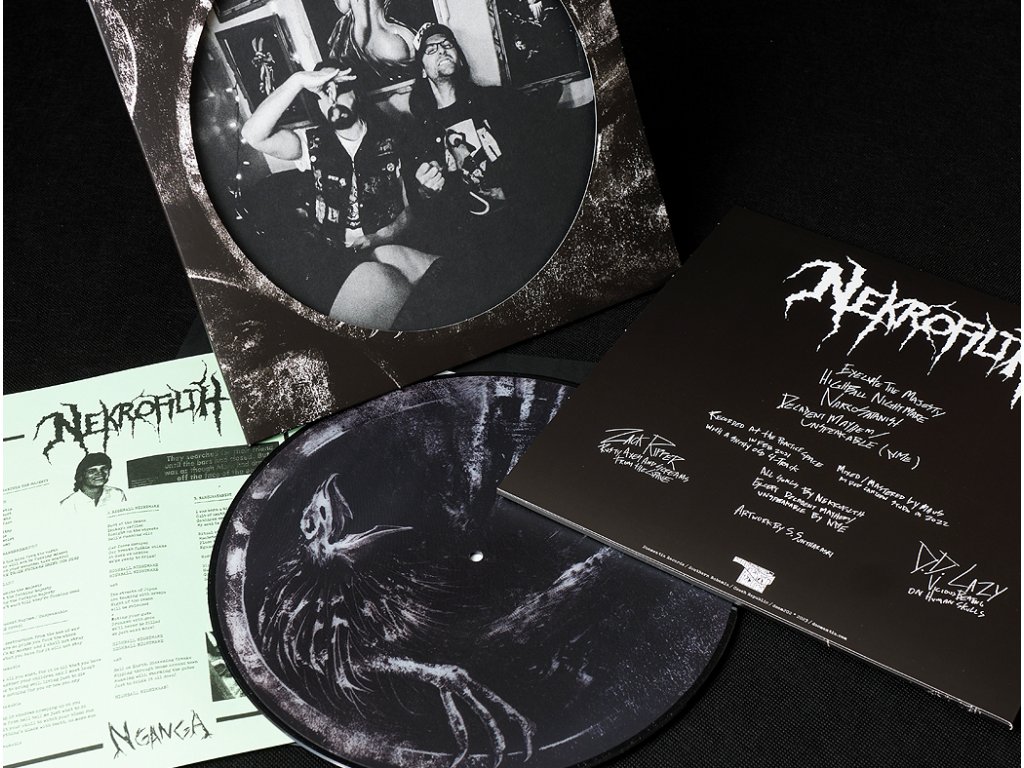 Read short interview with Zack (vocals, guitars):
Nekrofilth are on the underground metal scene for 15 years. Now, you are back after a short break. Why did it happen and when did you start to create material for the new EP "Nganga"?

Hey there! Yes, we started back in 2008 so this is our 15th year as a band. I moved to Portland in October 2020, in the middle of the Covid pandemic. Dylan and I started meeting some time in late 2020 / early 2021. That's when we wrote and recorded the material for "Nganga". It's taken two years mostly because the original label pulled out, and other semantic issues.

"Nganga" contains 4 new tracks. Please describe them for the fans, what can they expect?

There's a bit of everything on there! Dylan is a very fast drummer so I wanted to take advantage of that for the first track. Then we've got a mid paced heavy metal ripper in "Highball Nightmare", the true crime sleaze anthem "Narco Satanist" and a cover of NME to round things out. The sound on Unholy Death was very influential to this recording, and Dylan has played drums with Brian of NME doing those songs, so seemed fitting to include it.

What can you tell us about the mysterious name "Nganga" and what is the inspiration for your lyrics?

The aforementioned track "Narco Satanist" is about Adolfo Constanzo and his death cult in the late 80s. He was raised a black magician in the Palo tradition, in which a special kind of cauldron, or "Nganga" is central. His group perverted the tradition by sacrificing human souls within the Nganga in order to gain their power. It didn't work, and they were all killed or arrested, but it makes for a pretty good story.

The EP is released on Doomentia Records as a special one-side 12" with deep lenticular effect on the B-side. That's quite a porno for vinyl collectors... what do you think?

I'm absolutely stoked about the lenticular effect. I had no idea that was even possible, so hats off to Lukas for making it happen. I hope people are as excited about the release as I am!