Die-hard LP box "Vemork Konstrukt"
Colored neon vinyl
8-pages booklet
Oldschool logo metal pin
Poster
A5 plastic sticker
Japanese metallic obi strip with numbering
All limited to 200 units only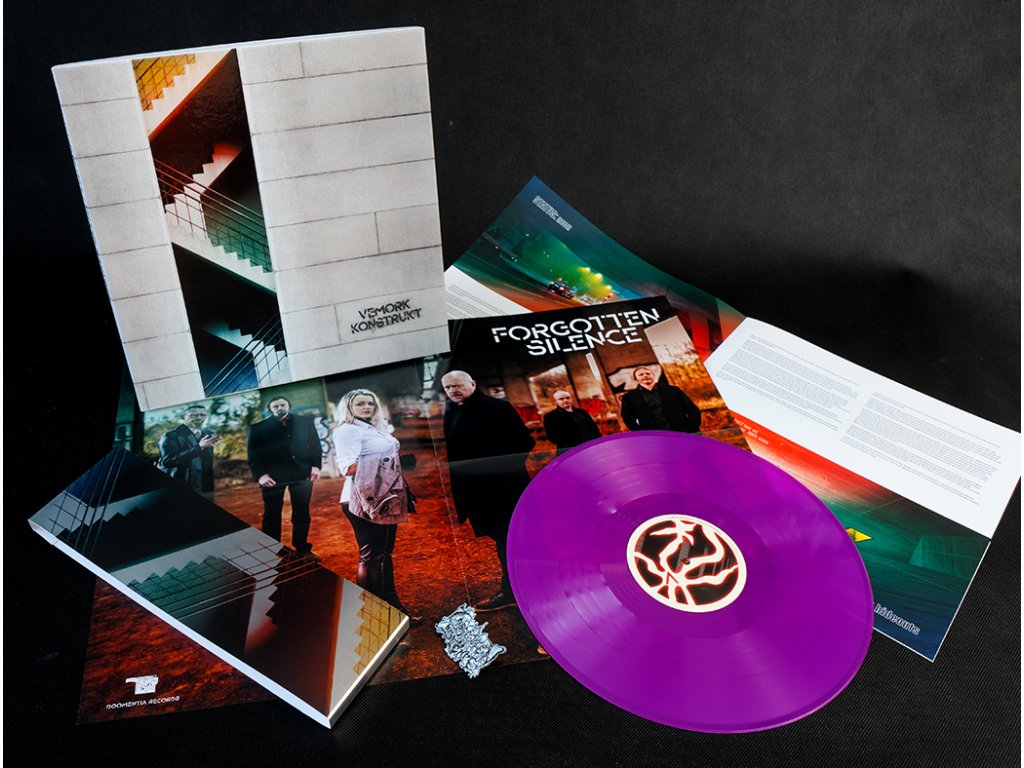 It would have been too easy wouldn't it? After all, FORGOTTEN SILENCE could have easily capitalized on the current yearning for vintage mid-90's extreme sounds. And weren't the South Moravia-based sextet, next to others Czech Republic contemporaries such as SILENT STREAM OF GODLESS ELEGY, LOVE HISTORY or PARASOPHISMA, supposed to have live the tale and contribute forging that very peculiar sound? Except that you can't just rewrite history because right from the very start, say around 1996 when they released their out-of-this-world debut Thots on Obscene Productions, they simply refused to play by the rules. And they still do to this day. Their brand-new album, and follow-up to the equally bizarre 2018 masterpiece Kras, is another tour de force, mixing death, doom, progressive rock, jazz and everything in between.
As all its predecessors, Vemork Konstrukt knows no boundaries. Yet its many left-turns are always at the service of the songs, thanks to crafty arrangements and the angelic voice of newcomer Andrea Baslova. A roller-coaster of emotions it might be but a concise one, as FORGOTTEN SILENCE have put a lot of efforts in their first recording in five years, resulting in a four-tracks 39-minutes long avant- garde masterpiece.
While MAGICK DISK MUSICK will take care of the regular LP, CD and MC versions, the long admirer of the band DOOMENTIA will take care of the LP version, culminating with a superb extremely limited diehard version. So join the dance!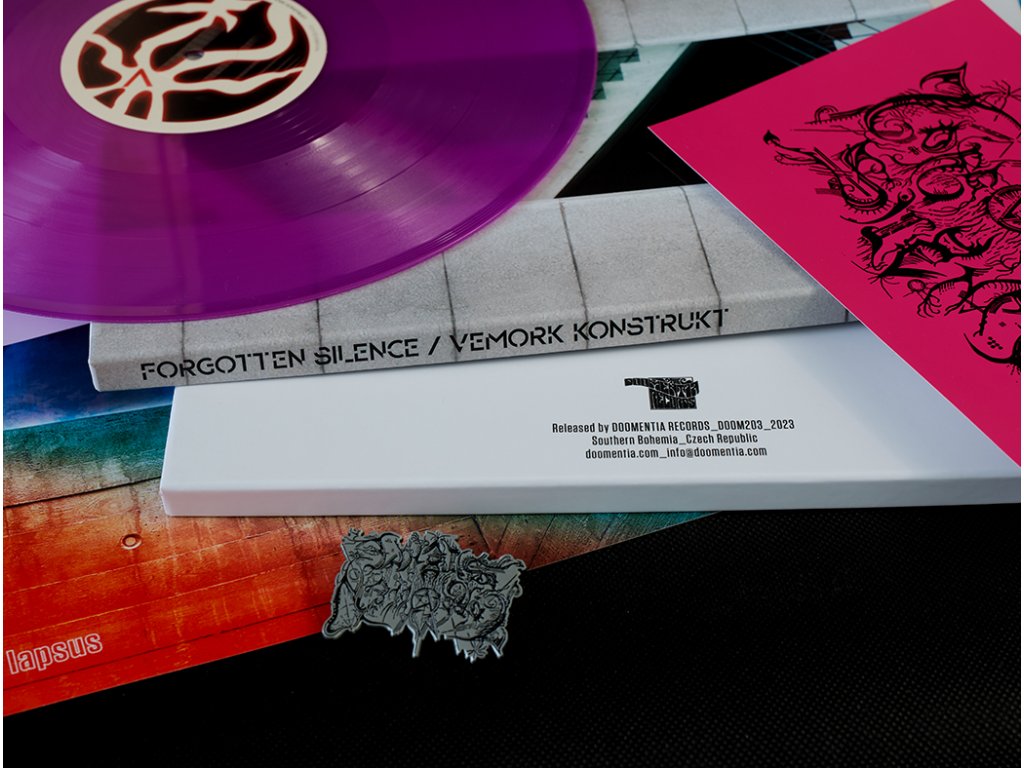 Read short interview with Krusty (vocals, bass):
FORGOTTEN SILENCE are known for experimenting on every album. What's new on the album "Vemork Konstrukt"? And what is new for the band after almost 30 years of existence?
We've always tried to make our albums partially related to each other, but at the same time different from each other. We don't want to repeat ourselves, we don't want to be boring. We want to make music that we would like to listen ourselves. The new album might sound a bit darker, more machine-like, dehumanized and industrial... like from the future, from a world where perpetual rain falls and neon lights flash on the streets. The album is dominated by female vocals that bring something like a ray of sunshine and hope. But I'm certainly not objective enough to judge our album. It's best to listen this record. Anyway, I can admit that we planned to come with new methods and new sound. Even after thirty years we still enjoy making music. Even more than ever...
The album contains four long tracks. Can you describe them?
Complete album is connected by one concept, that's our tradition. The songs react to each other and talk to themselves, but don't create a story. Everything revolves around a dehumanized world that is starting to form all around us. The world according to Orwell. Social engineering denies us our humanity and our instincts, positive or negative. It seeks to shackle humanity to certain formulas and dogmas, such an unnatural victory is always only temporary. It's like building house in the middle of meadow or forest, which nature takes back after a few years. There is no point in resisting it. In other words, we cannot silence our humanity and our nature under the pressure of something artificial, made out of boredom or false and unnatural ideologies.
You´re five members in band. How long was the process of composing and recording new songs? Who is the main creator of the music and why did you decide to bring back female vocals?
Composing didn't take us that long this time. I would say maybe a little over two years. We did the basic ideas separately with guitarist Fritsch and keyboardist Marty. Then we arranged everything and put the "Vemork Konstrukt" puzzle together. Andrea and her vocal lines came into the process, being more than just another instrument in the whole. I can't say that anyone is the explicitly main author of the music - it is a collective work in the true sense of the word. Andrea joined the band in 2018 and we toured with her for our albums, which historically featured female vocals. The concerts were very successful and we had no reason not to continue this fruitful collaboration. We wanted to create something new in this line-up and we did... Andrea's creative way of working with vocals and lyrics suits us very well, so we have big plans for the future...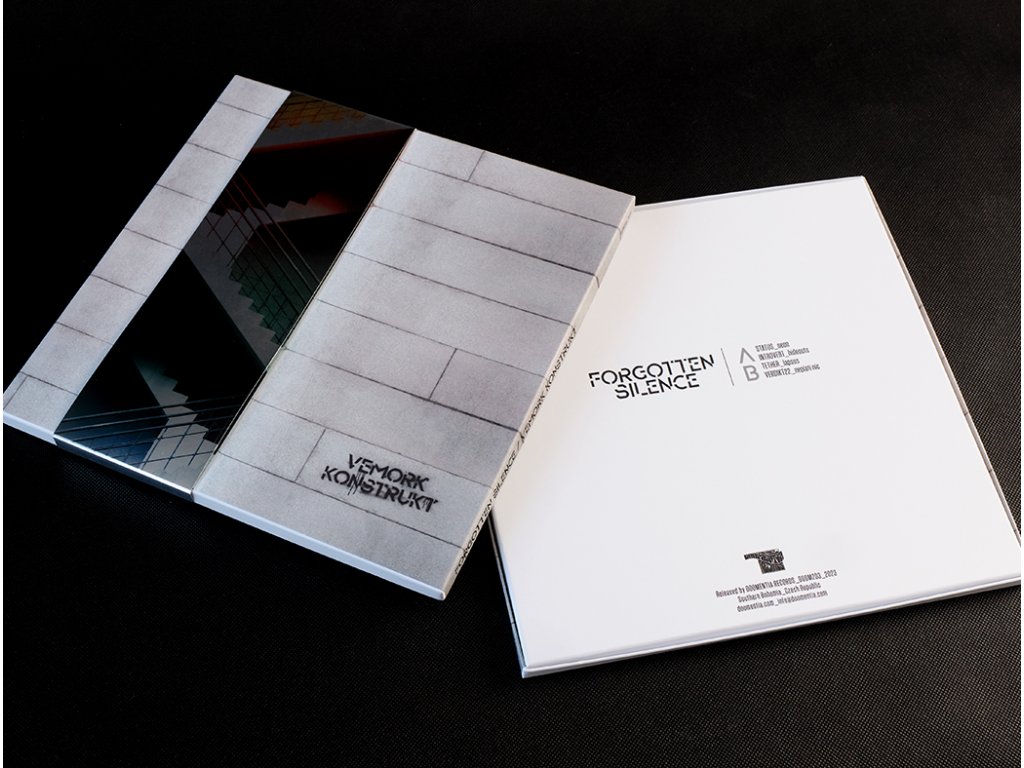 You worked with several guests on the album. What are their contributions to the record?
We invited such friends who enrich our music with something new and unconventional. Experienced Chymus took a big part of the male vocals, RDKPL is one of the pioneers of industrial and noise in our country and that's why we asked him to provide metal and electric noises. Onehalph is our backyard graphic designer and experienced programmer. He contributed to the last, unconventional track on the album. Guitarist Medved is the founder of FORGOTTEN SILENCE and deserves to be like a non-playing captain on each of our albums, at least a little bit. But in all cases these were meaningful contributions that enriched and advanced the album "Vemork Konstrukt".
"Vemork Konstrukt" is released on Doomentia Records as limited die-hard box. Do you like this box? What is your relationship with similar limited editions? And who shouldn't miss this release in their collection?
I love limited editions - in all formats. A physical carrier is a basic thing for me, it's a certain form of fetish - I admit it. But intangible MP3 is not for me. I need a complete package of services - vinyl, cover, lyrics, graphics... even the scent of the album too. All this means: album. The music itself is only part of the mosaic. I know Doomentia Records products very well because I own a lot of them and have always been impressed with them. And I will confess without torture that it was always my dream to work with Doomentia. We've already done this in the past (7" EP "RE:retro ´93", 2014), but full album on vinyl - that's just a dream come true! Doomentia has always done a first-class job on limited editions, and our die-hard box is not the only one. We are all excited from this release and proud to be part of the Doomentia family!