12"LP/CD/MC "Spiritual Exodus"
DIE-HARD LP (colored vinyl, casewrapped gatefold, limited to 100 units)
REGULAR LP (black vinyl, single jacket)
Printed inner sleeve
TAPE (7-panel j-card, limited to 100 units)
CD jewel case (12-page booklet)
Artwork by Paolo Girardi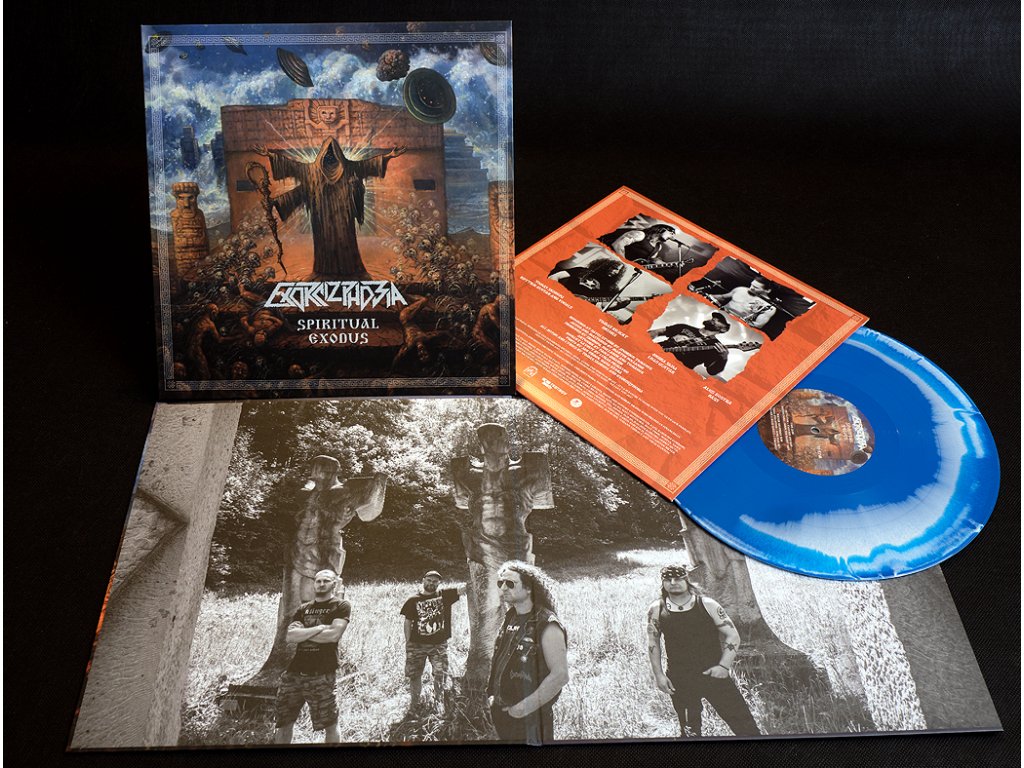 EXORCIZPHOBIA is back with new LP! The album is titled "Spiritual Exodus" and in many ways continues where its predecessor "Digitotality" from 2020 ends. Through the themes as reincarnation (Reflections, Ring-Pass-Not or Through a Glass Darkly, which is musicalized poem of general George S. Patton), altered states of consciousness (Initiation) or alternative points of view on our reality (Down The Rabbit Hole, Those Who Oppose), finding itself in the atmosphere of combining the ancient and current. The aesthetics of this aproach is even audible. Old school fashioned thrash metal is combined with modern and distinctive touch. The whole record concludes in seven plus minutes long instrumental called "Tiwanaku" which links the music with fantastic artwork made by Paolo Girardi.
"Spiritual Exodus" will be out through DOOMENTIA RECORDS on vinyl (black, color gatefold), CD and MC. Release date of the physical formats is September 22. Album will be out on all digital platforms on September 25, except bandcamp (6th of October – bandcamp Friday). The band will be promoting the album on the german club tour with Israeli band BLACK SACHBAK.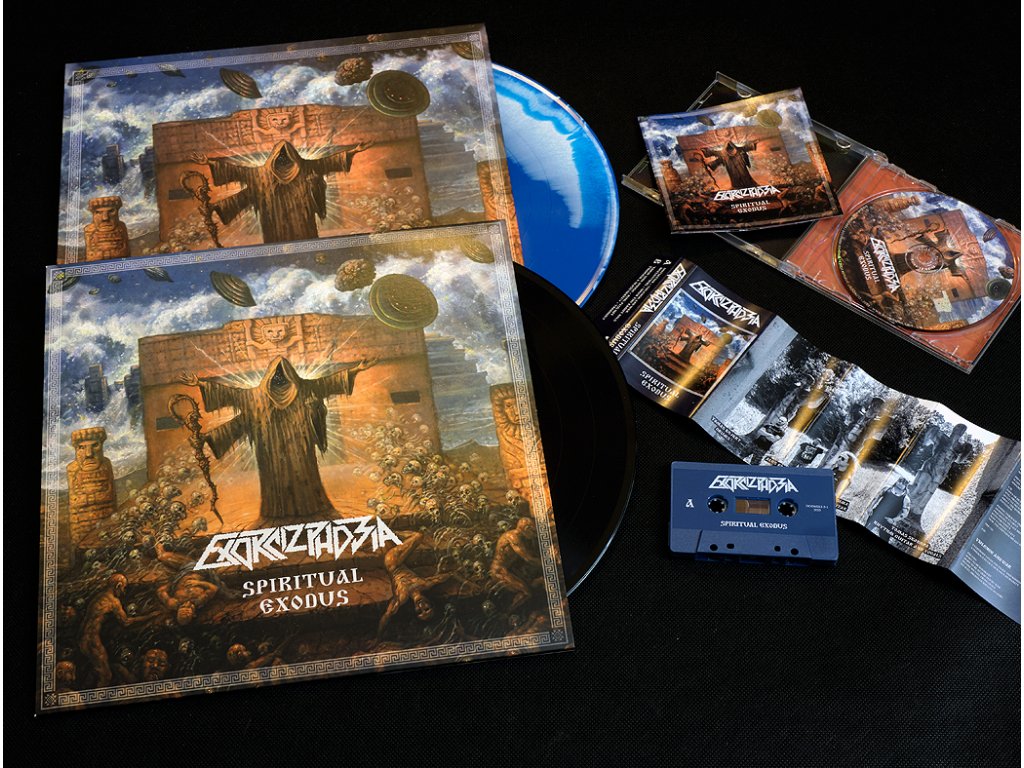 Album tracklist:
INITIATION
VIOLENCE AND WAR
REFLECTIONS
DOWN THE RABBIT HOLE
THOSE WHO OPPOSE
RING-PASS-NOT
THROUGH A GLASS DARKLY
TIWANAKU (INSTRUMENTAL)
Read short interview with Tomas Skorepa (vocals, guitars):
The last full-length album "Digitotality" was released in 2020 and had great reviews worldwide. What do you think makes the new "Spiritual Exodus" better?
Hi everyone! Well, I would better keep it on the listener to assess… "Spiritual Exodus" continues where "Digitotality" ends in many ways, but embracing more mystical aspects. I'm sure we made an improvement in the creative and recording process, we were more focused on details in general. To be particular, we went the studio to lay down the demo first for example. Never did that before. We also did invest more into the post-production. I believe those steps made the new record more complex.
You have a permanent band line-up finally. How long have you been composing the new material, who is the main author and have you made some changes in the creative process?
Current line-up is together since 2019 and the chemistry is just great. Main author of the music and lyrics is me as ussual, but as longer we are together, every other member brings his influence to the final result more and more. I've started to work on the new songs right after our EP "Friend Of Lunacy" in 2021. I think we were better prepared for the recording sessions than in the past this time.
The artwork is by world-famous artist Paolo Girardi, who also drew for Exorcizphobia in the past. Paolo was your first choice and how do you like his work?
Yes, he was! It's our second cooperation with Paolo. He made the artwork for our split with HERESY called "Voracious Lunacy". We made a deal about the next one right after that. I felt like the concept and idea I have, will be magnificent when realized by him. I dare to say I wasn't wrong. We've been big fans of Paolo's work for years, so we are stoked to have him. I really dig his style and approach, that gentleman is living a life of a real artist in traditional way. You can feel it from his art, nothing can make up for that.
You are back on Doomentia Records after long 10 years. Is it important for you to have new album on all formats and under one label? Which version of "Spiritual Exodus" is the best for you?
We've sent the new material all around to some foreign labels and there were some options, but when we found out that Doomentia is back and interested to work with us, we knew that's the right solution for us. As you mentioned above, our split with LAHAR was released on Doomentia 10 years ago and it went out perfect. Lukas and Doomentia is a guarantee of quality and we are truly pleased to work together again! I think that all formats look just great, but I'm really looking forward to that limited gatefold edition of the vinyl!
EXORCIZPHOBIA is on the thrash metal scene for 18 years. Where do you get inspiration for new albums and band continuation? What are the band's goals now in 2023?
Well, living a band life actively takes a lot and it's not for everybody. But we genuinely love it, that's why we've been trying to improve still and pushing stuff about the band higher. There is always a lot to work on, it's a fun challenge. There will be launch party of the album at Modra Vopice in Prague (September 22nd). Week after we going on the tour with our Israelien friends BLACK SACHBAK over Germany. This year we gonna play about 50 shows and most of them abroad, so we definitely wanna keep it that way in the future. Inspiration and ideas just floating all around in the space, so it's up to you to be a good receiver, bring it real through you and don't fuck it up too much, haha.