LP/MC PREDICTION - "The Unholy Flame"
300 copies on 12" black vinyl
100 copies on cassette
Artwork by Jenglot Hitam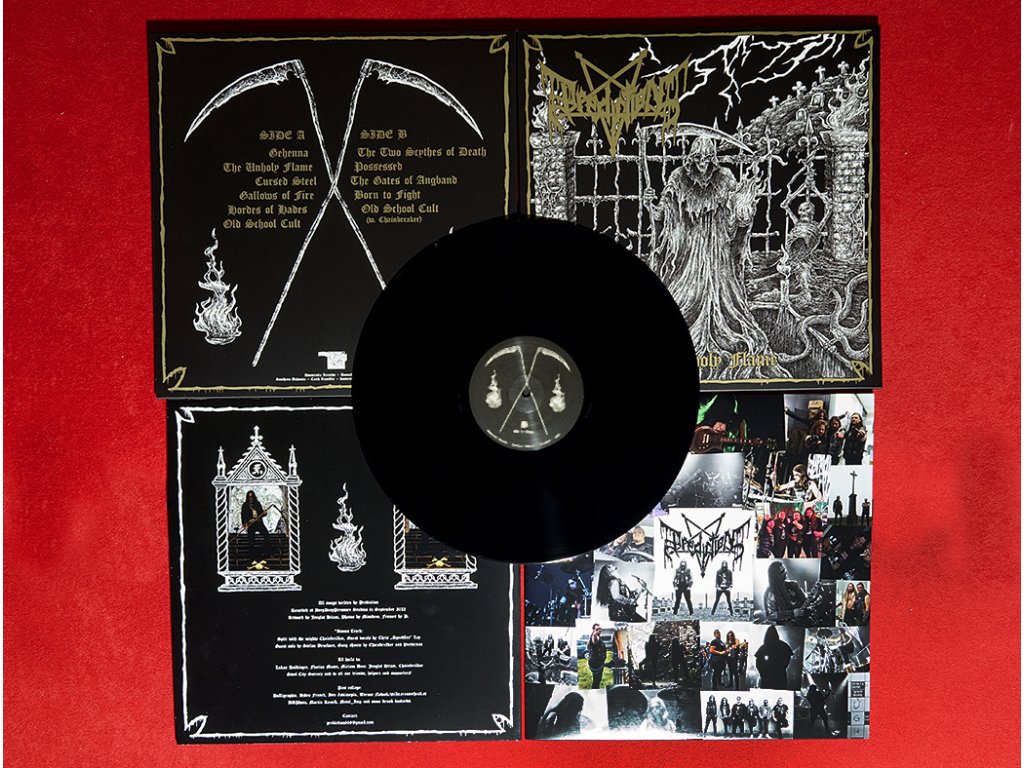 Remember when you first heard DESASTER? When you engaged in one uncontrolled headbangin' mania while listening to AURA NOIR? Overall, when was the last time you were swept off your feet by one truly great, intense, neck breaking black/thrash album? No, we aren't talking about one of those cheap early KREATOR clones who believe that recycling for the umpteenth time 'Pleasure To Kill' riff over and over again and carry as much spikes as possible would do the trick. No, we're talking about proper black fucking thrash. We're talking about PREDICTION.
After two self-released albums, the Upper Austria duo of David Leppen (guitar and vocals) and Fabian Ditzlmüller (drums) are back with their third nuclear strike, and first for DOOMENTIA, The Unholy Flame. Tracked down at Deep Deep Pressure studios last September and released on LP (300 copies) and tape formats only, this new ten tracks (plus one hellish intro) effort not only does tap in the very roots of the genre from a fresh perspective as it was 1987 all over again but it also has the kind of urgency and drive that will make no prisoners! A never stopping roller coaster of pure 80's METAL. And if this wasn't enough, added as three stars bonus to this riffs orgy is the song "Old School Cult", a nerve wrecking tribute to the speed metal sound of yore featuring their fellow countrymen and close allies of CHAINBREÄKER on both lead vocals and guitar solo.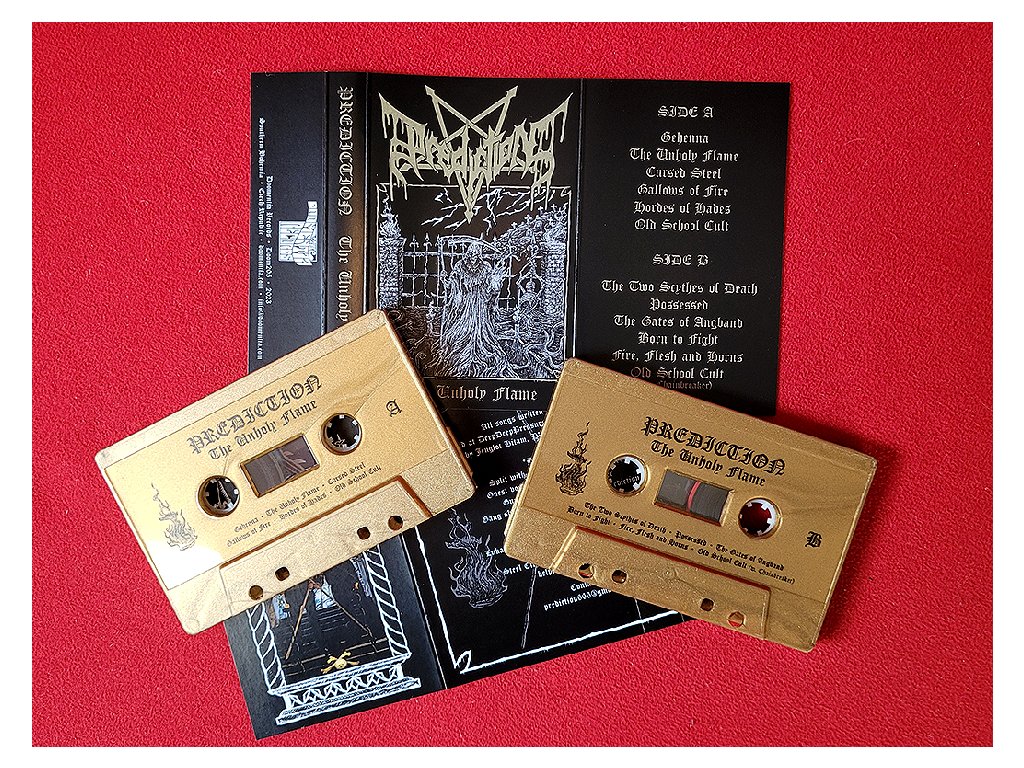 Read short interview with Dave (vocals, guitar):
"The Unholy Flame" is your third full-length album. How is it different from the previous one and how is it better?
We would not say its better than the other albums, maybe a litte, but its different and more defined than the others. For this album we take more time to compose it because we want to make the best out of it, we changed our style a little bit to a darker and more hateful Black/Thrash with more energy with a pinch of good old Black`n`Roll!
You are only 2 members in the band. How do you compose music? Where and how long you recorded new album?
The most of our songs starts at a jam session, we just improvise and when we have something we like we keep working on it, sometimes we write a song in 30 minutes, sometimes it take weeks to finish it. We recorded "The Unholy Flame" at DeepDeepPressure Studios in Braunau (Austria) like the two releases before ("Hell Strikes Back" and "No Tombs For The Holy"). It takes us three whole days to shred down this evil piece of a godless album. At this point we want to say thanks again to the master Lukas Haidinger (Distaste, Profanity, Endonomos, UGF).
The author of the album cover is Jenglot Hitam from Indonesia. Why did you choose him? Have you been following his work for a long time or were you interested in some of his artwork and you wanted to do the same?
We found Jenglot on facebook and we followed his work for a while, and for everyone who dont know him, check out his amazing work! After a while we decided that he should paint the cover because of his unice old school style, so, David has made an scetch how it should look like and Jenglot made an masterpiece out of it.
It's been a while since the album was recorded. Which songs on the album do you think are the best and should be heard by every black/thrash metal fan?
Thats an difficult question because every song has its own spirit, some of them are more into Black Metal, some of them traditional Black/Thrash, some are Black`n`Roll but the songs we like the most are "Hordes Of Hades", "Cursed Steel" and "Gallows Of Fire"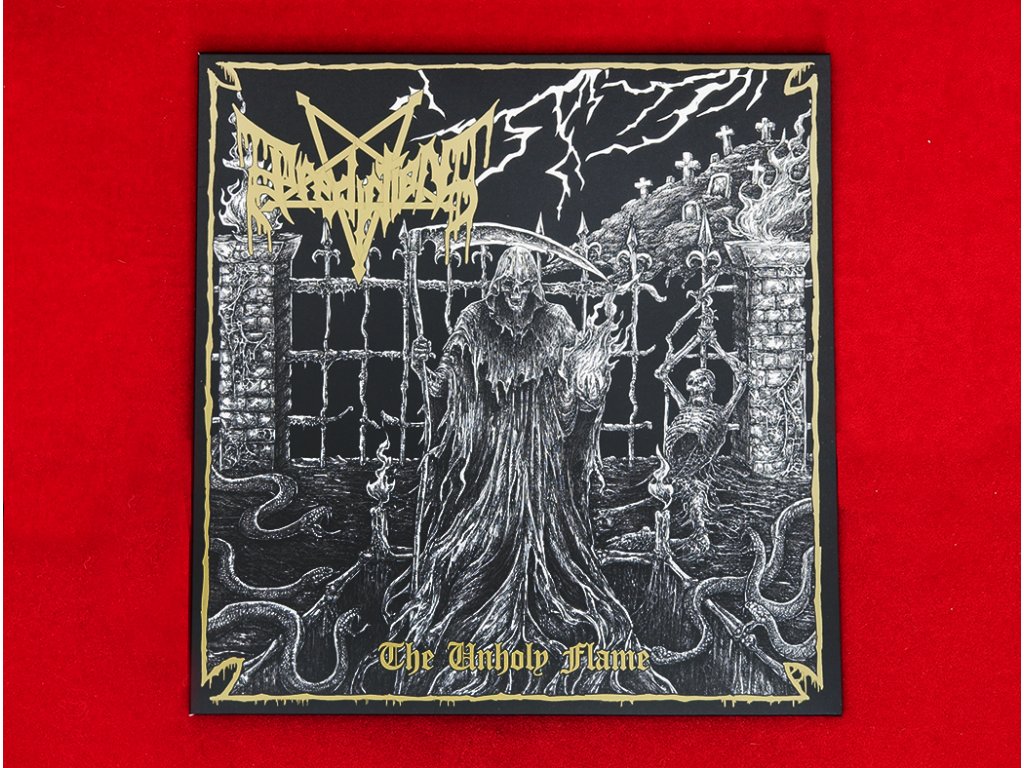 The album is released on Doomentia Records as vinyl and cassette. What do you like most about the realization of both releases?
At first, thanks for the release of our new album! What we like the most? That it will be (physically) only released in old school formats. Vinyl and Cassete are the best way to enjoy music! Always has been, always will be.
Which bands are the inspiration for PREDICTION? Who should not miss the album in their collection?
Our biggest inspirations are a real cliche. Well known bands like Darkthrone, Bathory, Hallhammer/Celtic Frost are a big inspration for us, but also Bands like Omega, Ketzer, Old and One Tail One Head. Nobody, who likes metal in the raw, dirty and oldschool way, should miss this! This one is for the old school metal bastard out in this world! UGH