Live at Thrash Nightmare vol. 9
Official live bootlegs
3x 12" LP
Insert
Professional sound mix
One-time pressing
Limited to 150 copies only
Recorded on 14-15/10/2022
Three live albums by old school metal bands Barbarian, Eurynomos and Nuctemeron from the last edition of the underground metal festival Thrash Nightmare in Písek, Czech Republic. You get energy and raw metal on black vinyls and live recordings of great and unforgettable shows at sold-out festival from leading names of European black/thrash scene!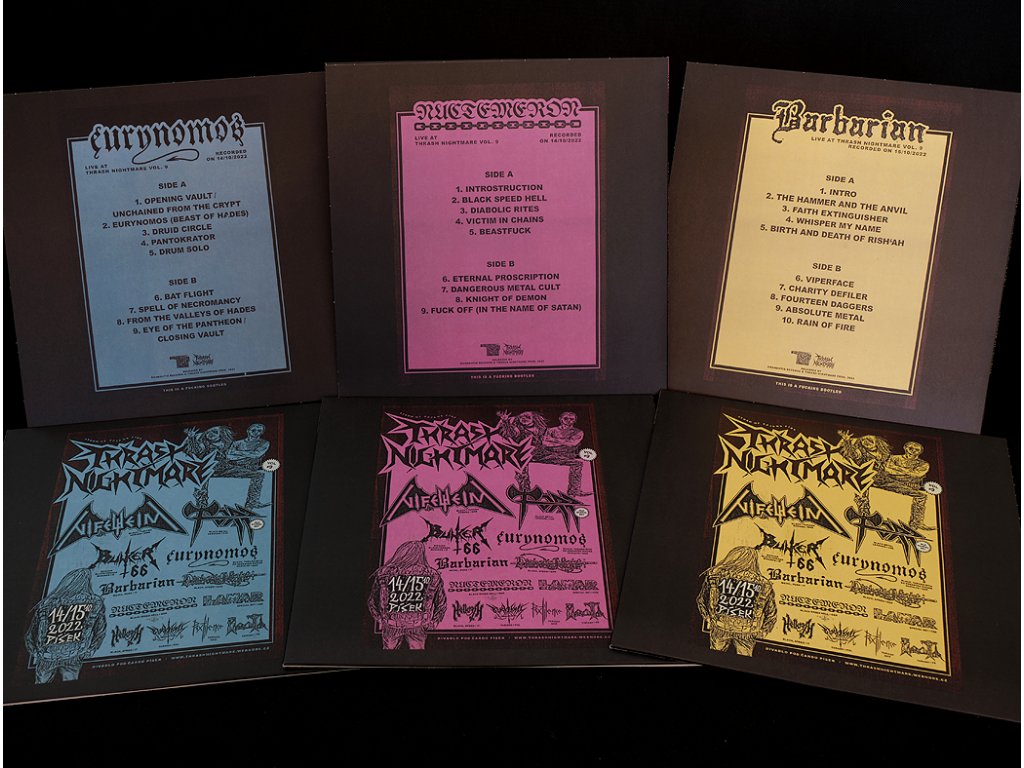 Said about this release:
Borys (BARBARIAN): "Barbarian... Live! After more than a decade of aggression an unexpected fat and ugly slab of vinyl is unleashed in the East of Europe. Raw evil sound, unaware of being recorded but, as always, ready for boarding in a night in the dark at the best festival to raise hell on stage at. No sleep 'til Thrash Nightmare Fest, hail hail hail!"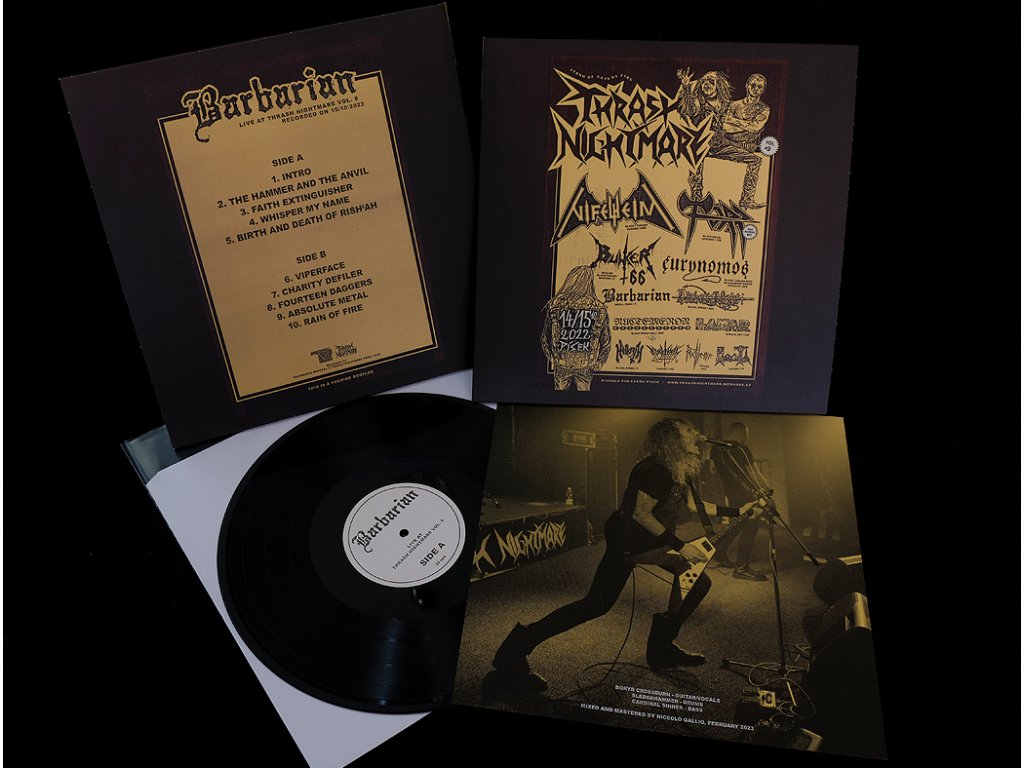 Aethon (EURYNOMOS): "The gig in Pisek was not only our first gig since February 2020 when the world all of a sudden wasn't the same anymore, but also our first gig with a re-newed line up. We only had one rehearsal in advance for the concert at THRASH NIGHTMARE and we did not know that the show was recorded. The outcome was better than expected, even though we had some little problems and we also had to cut one song ("Witchryder") of the set. We really did enjoy the energy of the show, the maniacs in the first rows were true fistbanging wild warriors, just listen to "Spell of Necromancy" where a stagediver cut the guitar. The atmosphere of the entire festival was excellent and we think that quite some people were superhungry again for real metallic mayhem after more than two years of restrictions. The staff at THRASH NIGHTMARE was supercool and the festival itself is a total must for every Metalhead into true old Metal madness. A festival done by fans for fans! We salute Petr for inviting us to THRASH NIGHTMARE and also Lukas for putting out this "Official Live Bootleg" LP. It represents the moment of EURYNOMOS' return and the opening of a new chapter!"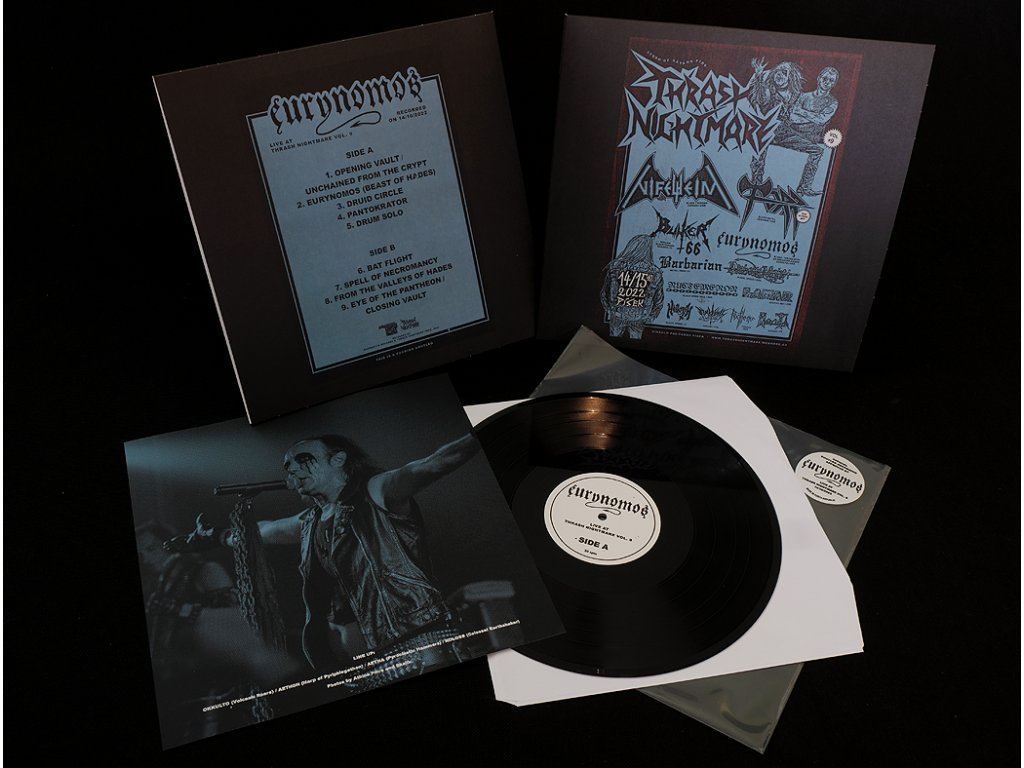 Lunatic Aggressor (NUCTEMERON): "Live at Thrash Nightmare-official bootleg" perfectly captures the absolute underground atmosphere of Thrash Nightmare. And Honza Kapak (almighty Masters Hammer) has perfectly mixed and mastered the raw sound of the NUCTEMERON show at the festival. So the listeners of the record can expect the ultimate Black Speed Hell!!! The Thrash Nightmare in Pisek is one of the best underground metal festivals ever. Visitors can expect a unique selection of bands, a totally running wild & enthusiastic audience, a great location in the beautiful city of Pisek and fucking cheap beer prices!!!! NUCTEMERON felt totally at home at Thrash Nightmare and were treated in a totally professional and friendly manner by the organisers. It was a pleasure and an honour for us to play live there and give the people a absolute bloody, evil & dangerous Black Speed Metal show!!!!"