7" split MALOKARPATAN/NECROMANTE
Limited to 2 x 250 copies
Black 7" vinyl
Gatefold cover
Two versions of packaging
Lyrics sheet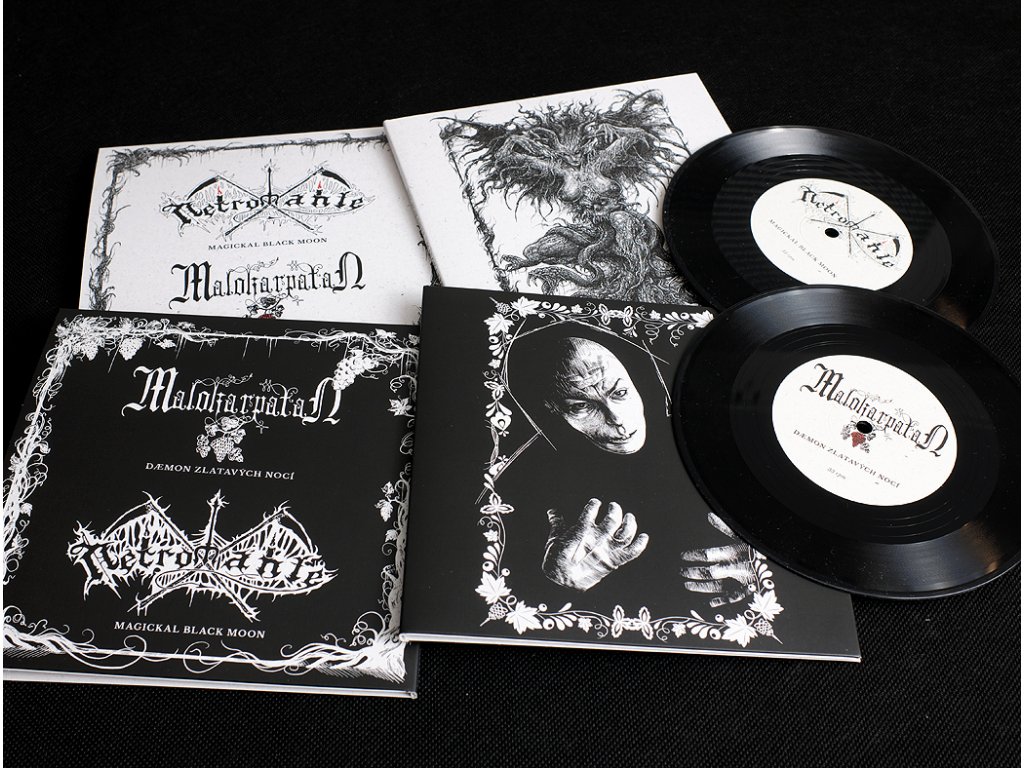 As once again proven by their recent fourth album out on INVICTUS PRODUCTIONS, MALOKARPATAN is truly a band out of time with their unique mixture of heavy, black metal and medieval elements, deeply rooted in their native country cultural history. Nos less 'weird', in the sense they too refuse to be tagged or lumped into a specific category, NECROMANTE has also been following their own and as strange path for the last fifteen years or so, honouring not just their Brazilian elder brothers such as MYSTIFIER but the more occult-drive, atmospheric and primitive side of the early 90's European scene as incarnated by MORTUARY DRAPE or SAMAEL 'Into The Pentagram'-era.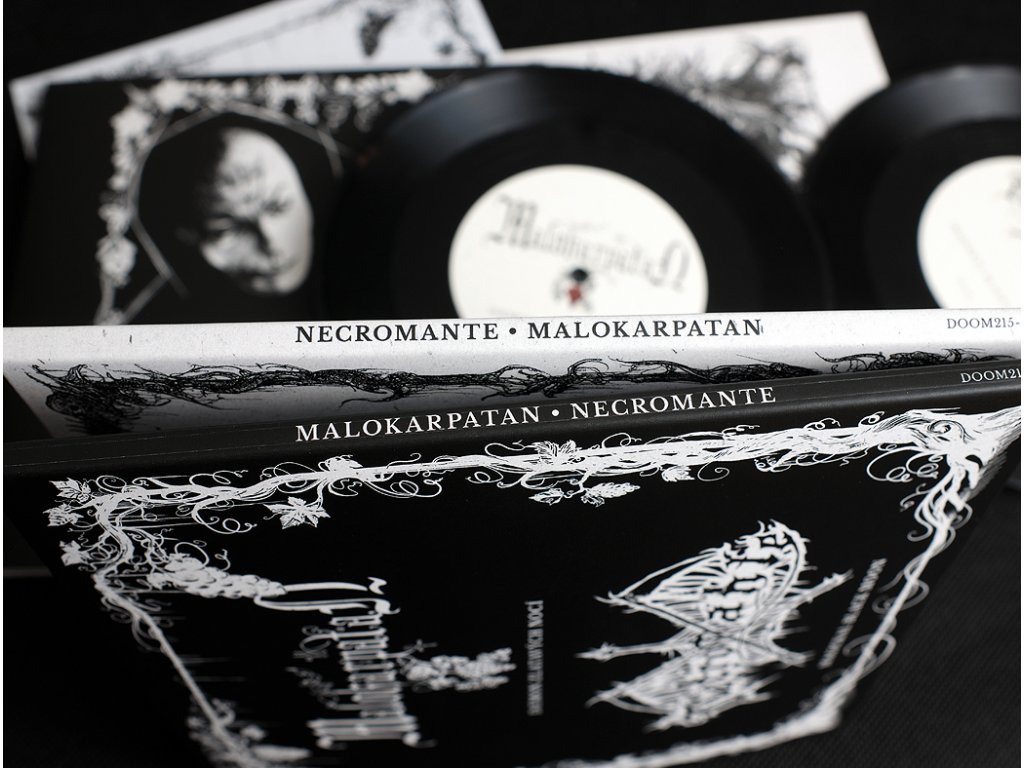 In a way, both acts were bound to forge an alliance at some point. Thanks to DOOMENTIA, this dream has now become a reality with this very special split EP, featuring two exclusive tracks. If MALOKAPARTAN's own 'Daemon Zlatavych Noci' is a slow-paced and gloomy piece dedicated to two cult acts from the late 80's Czech proto-black metal scene TÖRR and MORIORR, NECROMANTE's 'Magickal Black Moon' is the very first song recorded by the band now extended and international line-up, showcasing a rougher yet as bewitching style.
True to high standards set up by the label since its very inception, DOOMENTIA has once again pulled all the stops and came up with two, different and highly collectable artworks, each dedicated to one of the two bands included, plus a lyrics sheet and a classy gatefold cover. Forces of darkness unite!
7" EP DISMA - "The Graveless Remains"
100 copies colored
400 copies black
Artwork by Sawblade
Gatefold cover
A3+ poster printed on 140gsm offset stock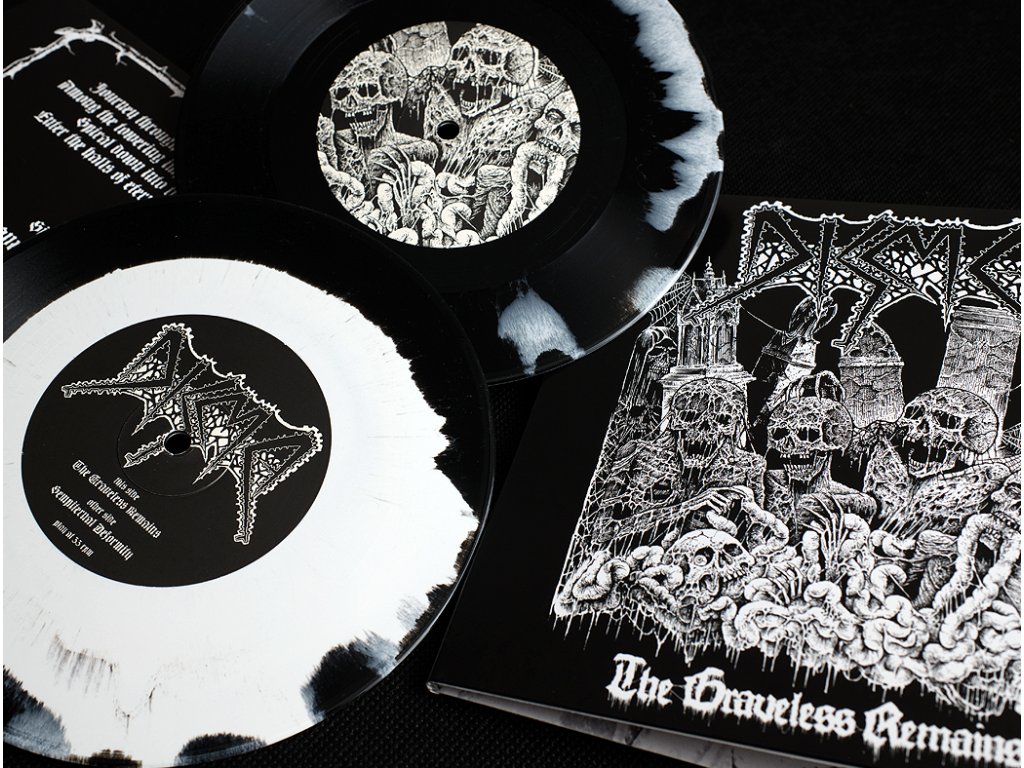 Having reestablished their fruitful collaboration since last spring, DISMA and DOOMENTIA are proud to offer to the fans a new addition to their series of long-overdue of reissues of the whole band back-catalogue. Among them all,The Graveless Remains holds a very special place: originally released back in 2017 in one-extremely limited edition of 600 copies on vinyl only, this was one DISMA first new recording in six years, first without ex members Daryl Kahan and Shawn Eldridge. Now introducing IMMOLATION/GOREPHOBIA stickman Craig Smilowski. In the meantime, the extreme metal scene had once again going through some drastic changes and one could have thought that due to their absence, DISMA wasn't the towering force to be reckoned with when they delivered Towards The Megalith in 2011. How wrong were they…
Clocking at 14 minutes and featuring two exclusive songs, The Graveless Remains is DISMA at their meanest, most victim and overall brutal best. On side A, the title-track is probably one of their fastest and most to-the-point track ever whereas on the flipside, the nearly 8 minutes long 'Sempiternal Deformity' almost painfully drags the listener into the mud while beating him to death with the kind of slow and downtuned dirge only DISMA could come up, propelled by former INCANTATION frontman Craig Pillard's uncanny guttural grunt.
Determined not to let this brilliant EP vanished in obscurity and EBAY scammers take advantage of the band's faithful fans, DOOMENTIA has decided to rerelease it as seven inch, with a gatefold cover, a brand-new and as bleak artwork by Dan "Sawblade" Shaw and a poster.